The Basque Country has a forestry surface occupying more than 490,000 hectares, ten times more than the urban land and around 68% of its total surface.
These figures give an idea of the protagonism held by forestry in our ecosystem and the role it plays in our everyday activity. Forests trap CO2; they contribute to regulating the climate and to maintaining river basins, as well as helping to preserve biodiversity.
But they also enable the development of important economic activity in sectors such as timber production, the obtaining of raw materials and leisure and well-being.
At NEIKER we know the importance of preserving forests, and that's why we work to provide different forestry solutions.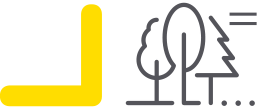 Commitment to forestry maintenance.
Our lines of research in forestry.
Disease control
Research to control and tackle diseases such as brown band and red band in collaboration with other international organisations.
Sustainable forests
Promotion of the forestry-timber value chain with a view to promoting sustainable forests.
Management of degraded forestry soils
Management of degraded forestry soils
Creation of management plans to halt forest soil degradation due to water erosion, compaction, loss of organic matter and biodiversity.
Early detection of invasive species.
Early detection of invasive species.
Development of systems using new technologies.

Would you like to consult us on your case?
Would you like more information?
We have a highly experienced team who are here to help you.